Hello everybody,
My IGN is
ooOp_qOoo
So I would like to make a suggestion, regarding the /blocks rewards.
Currently there are six steps in this system.
°500k broken blocks
°1million broken blocks
°5million broken blocks
°25million broken blocks
°50million broken blocks
°100million broken blocks
Currently it looks like this: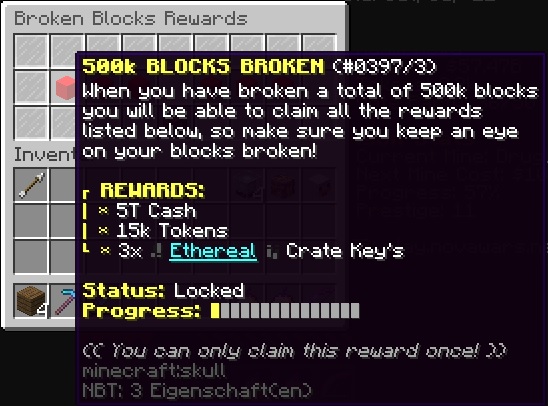 With the smallest being
500.000
it seems like the goal is very
ʰᶦᵍʰ
and alot of players don't even look at it, because of that.
Now, in my opinion there is a way to make it more appealing and rewarding grinding all those blocks and here it is:
Add smaller steps.
What I mean with that is something like giving the players items, money or tokens in a stairway system like the following example:
every
10.000
broken blocks:
1k tokens
at
25.000
broken blocks:
10B cash
at
50.000
broken blocks:
20B cash
etc.
I would like to hear your opinion regarding my suggestion guys and gals.
Have a wonderful day,

P.S.: If there already is a system like that present, I have not seen it or did not pay attention, in which case, my bad
.